Buy Days Gone PRE-ORDER Steam CD Key Region:GLOBAL Platform:Steam Languages: Stock: In stock
The year was 2016 and Sony presented us at the E3 conference its next big game, which was to expand the decent base of upcoming titles for the then relatively young PlayStation 4. It was Days Gone, a zombie action adventure in the open world. Already in the first demonstration of gameplay, the authors presented us with huge hordes of zombies and presented one of the key advantages of the whole game. As time went on, we gradually learned more about the game and it was clear to us that it would not be just a monotonous shootout with the primary goal of clearing the world of crazy monsters a few months after death. The authors began to place more and more emphasis on the story, which can be seen from the latest previews published before the release of the game.
However, what was also interesting about the game, basically from the announcement, was the studio that developed the game. This is Bend Studios, which has so far caused smaller and larger things, but it has been working on the larger ones a long time ago – in 2004. In connection with this, naturally, there were concerns that the developers did not take on too much bite. . After all, creating an open world that works, makes sense and is not boring is not easy at all. At the beginning of March, we were able to play a piece of the game, from which we also brought you impressions. These were mostly positive, and so the above-mentioned fears were almost completely allayed. Namely, a few hours spent with the game is something completely different compared to the full version, which has fun for a few tens of hours. A week ago, I moved to Oregon to survive the story of Days Gone in full parade in Deacon's skin. So how did it turn out?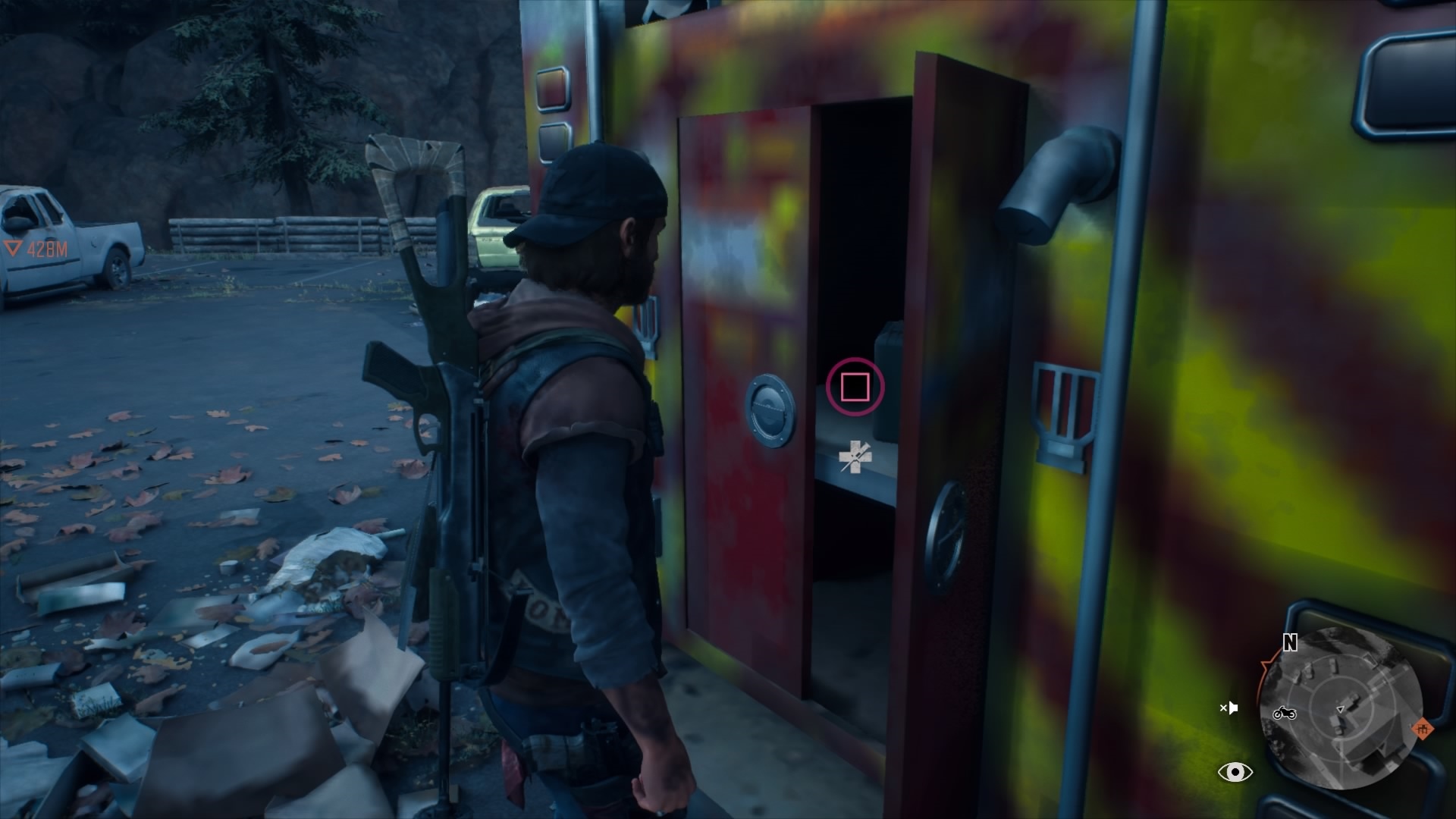 Despite more information and about two hours from the start of the game, I wasn't quite sure what to expect from Days Gone. So I started playing with a cold head and let myself be led on a very long wave. The world of Oregon has been cold from the beginning, vast but not desolate at all. At every step in the game, various pitfalls await you, both the natural ones – animals, as well as the less natural and much less welcome ones – freakers or rippers. The environment is simply alive and you have to be connected to it all the time. You are essentially dependent on what it offers and what it hides in its bowels. Whether it is ordinary herbs or trees, abandoned houses, but also animals. You will also benefit from abandoned cars, which often hide the necessary raw materials. It is about the raw materials that will be your daily operation in Days Gone, and if you underestimate them even once, it will not take long and the game will calculate this haste. It is one thing to always have a sufficient number of ammunition with you, but you simply cannot take lightly with you to keep enough tools to make first aid kits, grenades, traps and repair weapons.
I just started the review with the world, as this is where you have to survive the whole story. Moving for tens of hours in something that gets on your nerves is simply not right, well, fortunately, this is not the case with Days Gone. The world of the game is really interesting and it always has something to offer you. It may not open in its entirety at first, but you will have plenty of time to explore it. The game of missions itself motivates you all the more, thanks to which you will visit various places and gradually every turn will get under your skin. You don't have a problem finding the right path blindly, thanks to navigation, but whether you get to your destination is up to you and your consistency. Going on a long journey and losing gas in the middle is simply not something you would dream of at night. Especially if it happens to you in the middle of a group of freakers and you also don't have ammo. Well, not only a lack of gasoline, but also a broken engine does not have to betray you. The game "writes" you every mistake somewhere, and at the most inopportune time, it throws it right in your face so that you really realize that what's happening in Oregon is no fun.
The story, which is surprisingly well managed, will also try to convince you of this. Of course, it won't be for the Oscars, maybe even for another smaller award, but it's definitely an adventure that will grab you by your motorcycle jacket and pull you to the very end unintentionally. In the game, you will come into contact with a number of characters, with some you will spend less time, with others more, but most of them will appeal to you. Each adds something new to the story, shows you a different direction and Deacon perceives it all, but still tries to go headless for his only goal. Story missions are served gradually, but it's up to you how you approach development. You can't influence the story, but you can try to meet the needs of others, do good deeds. Your plans can make your journey many times uncomfortable, but you will also receive valuable rewards several times for it.
The main story missions have a good gradient, but they are often accompanied by various detours, which nevertheless make sense. All story missions are divided into branches, which the game gives you in its own way. So it is not unusual if you hide the one you are connected to and you have to rest on less important tasks. At such moments, I wanted to skip everything, but unfortunately, that was not possible. However, such bridges are not always bad and often make sense. The mentioned other branches are in the vast majority of side missions, to which you can return voluntarily, or devote time to them according to taste. Personally, I have never had a significant problem with side missions as such. Although there are tasks that constantly adhere to the same framework, they also bring new challenges with regard to the environment. However, similar problems are no exception in open world games.
However, the scale of the game is ultimately really high. The authors won with the details and every single step motivates you to continue. It has not happened to me for a long time that I said to myself at the game: "I will give one more mission and go to bed …". It happened to me several times. Of course, I don't want to tell you anything from the story, but there are also some side missions to complete. You can improve your motorbike with the money you earn after completing the tasks, as well as the confidence you gain within the camps, because money as well as trust is given to each camp separately. for close combat, long range combat and your survival skills.
The length of the game, which according to the developers should be decent, has been lowered many times. In numbers, that means at least 30 hours of playing the main storyline. I don't know if these estimates are completely accurate, as I definitely didn't spend that time in the game. I saw the subtitle screen after about 50 hours spent in Oregon. So the story is really extensive and you really don't have to worry about the length of the game at all. If you decide to complete all the side quests after finishing, I don't dare guess how many extra hours it is, but a few dozen for sure. There are more than a dozen hikes in the game, and with only one you can often spend a few tens of minutes. Hordes are a completely different category of fights – you have to prepare well for them, both in terms of resources and tactics – where to go, where to attack and where to run. Paradoxically, during the fights with the hordes, I had almost no problems with performance, but here I come to the main problems of the game.
I played Days Gone on a standard PlayStation 4 and received several updates until the release to fix various issues. However, even with the latest update, dropping imagery is no exception. The biggest problems are when driving, and even more so if you deviate from the recommended route and shorten your path through the forest. Then the shooting can fall significantly lower and sometimes it happened to me that the game got completely stuck for a few seconds. With the PS4 Pro, these problems could be less, but what bothers both versions is loading textures. It usually happened to me that the textures on the cars were totally blurred, as well as under the grass or on the rocks. Especially at the end, it also happened to me that the objects were loaded so late that I suddenly found myself under the truck while driving. I mean, next to me and a motorcycle somewhere in the bowels of the car.
Similarly, I did not avoid mistakes. For example, the NPC character got stuck in a loop and didn't go any further, or a texture appeared before entering the cave, so I couldn't get to the bottom. A few times I also had an electric motorcycle with an electric motor and once I fell under the unloaded bridge with the NPC. Thus, in a few sentences, it may seem that the game is full of mistakes, but in the size it offers, these are just trifles – although, of course, this should not happen. However, despite the shortcomings, the mentioned visual page is at a good level and you will often see really nice shots in front of your eyes.
Days Gone offers a vast and elaborate world of devastated Oregon. The environment infested with fries and rappers hides various secrets that await you to reveal them. The complex story will engulf and entertain you for more than fifty hours, and even the side missions don't deserve to be ignored. Summarizing so many emotions into a few sentences is not easy, but despite the mistakes that the game contains, Days Gone is a very good experience with a good story and a huge number of options.
Pretty good
Days Gone's survival horror underbelly gives it just enough personality to distance it from the dozens of other open worlders already available. A dense selection of overlapping gameplay mechanics make for entertaining action, even if the title's unremarkable mission design doesn't always make the best of them. The story can drift, and the overall package isn't quite as polished as its PS4 exclusive counterparts – but as far as gaming comfort food goes, you could feast on much worse snacks than this.