Buy It Takes Two ENG Origin CD Key Region:GLOBAL Platform:Origin Languages: Stock: In stock
The children's mind is a breathtakingly powerful tool that can create whole worlds full of interesting characters and set in incredible environments in an instant. Just remember when you were kids and what different ideas ran through your mind practically all day. Many well-known books, movies and now even play deal with the topic of children's imagination. In it, the child's mind is so strong that it can transform the real world and so little is enough – just two tears. They turn little Rose's parents into two characters – one made of wood, the other made of clay. And if they want to get back in shape, it will require the effort of both – It Takes Two.
Although Josef Fares started as a film director, he eventually found himself in the gaming business. However, his games are significantly different. He showed it in the title Brothers: A Tale of Two Sons, he confirmed again with the event A Way Out. And in the form of It Takes Two, he brought us his masterpiece. Few game developers have only three projects out there, and all three are hits. They are focused on cooperation and it really makes sense, where one player can't do without the other. They are also highly emotional, introspective and especially believable in the area of ​​character characteristics. They are full of unreal moments, but they seem so that they could become calm even now. And all this makes them unforgettable experiences, of which this one is the best.
It is not difficult to predict what is happening in the game and why it is actually happening. In this, the game really isn't that original, but it doesn't have to be original either. It tells a story that is close to many, they know how to identify with it, whether from the perspective of the child or the parents. It is the fact that the story is realistic despite the fantastic elements that adds strength to the game. It is developing slowly, in the expected directions, but at a pleasant pace and also in a way that will not let you go. You experience with the characters immersion in their personalities, returns to the past, good and bad moments of the relationship, or even their passions, dreams and hopes.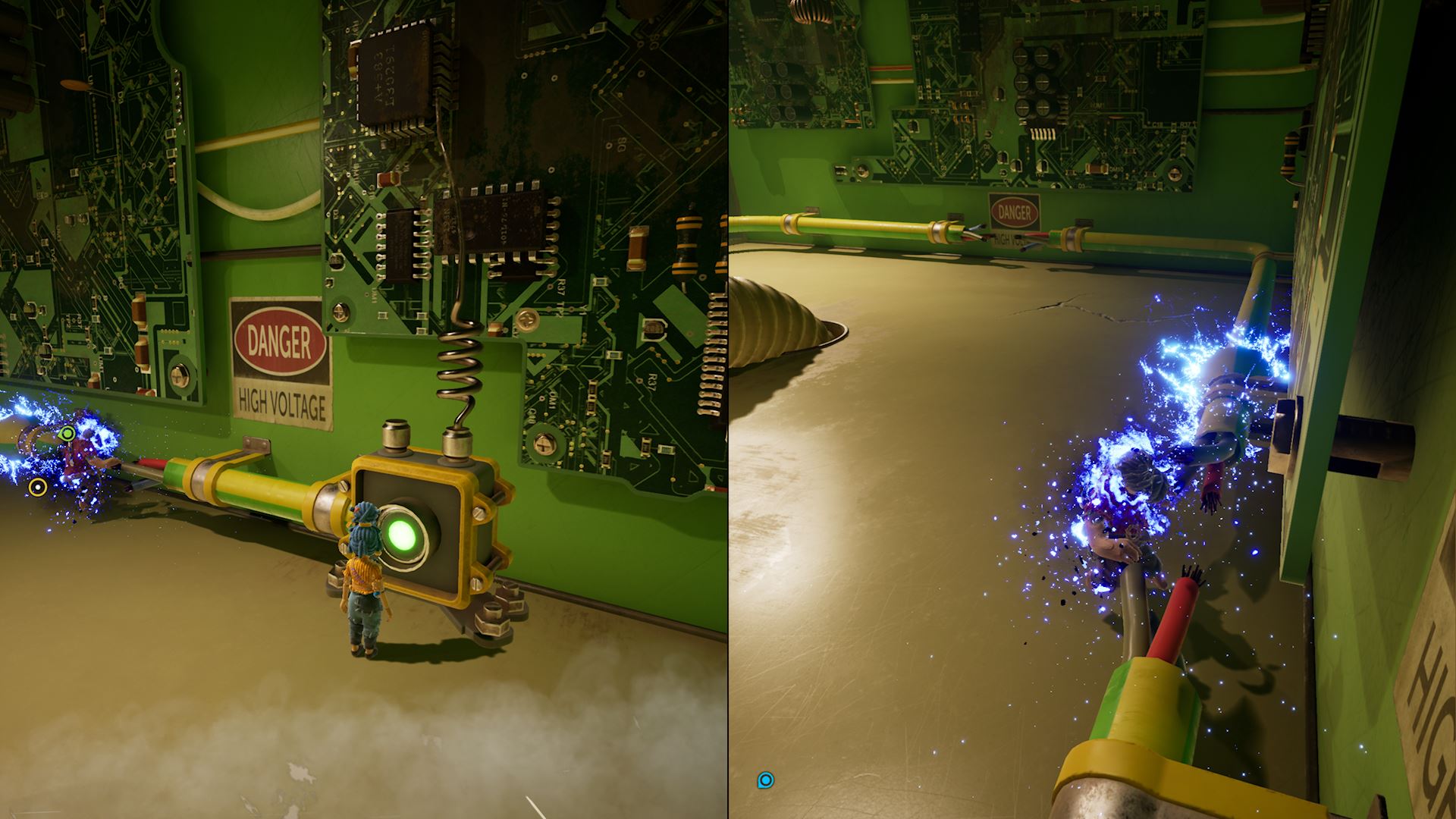 Parents – toys were not chosen voluntarily for the trip and although it is true that the child's mind was at the beginning of this whole trip, their guide at it point Dr. Hakim. A kind of book about love, which will try to fan the spark of a relationship again in a rather unconventional way. I'm not going to lie to you, he's an extremely annoying character, and after some good ones, you already know exactly how he will enter the story and move it further, but it works. In addition, he also humorously proclaims here and there, and even if it doesn't seem so, he sometimes puts something wise out of his mouth, and it doesn't hurt if you take it to heart and whatever state of your relationship you are in.
Dr. Hakim has prepared a lot of varied tasks for little Rose's parents, which will take them to various places representing certain points in the development of their relationship. But it starts relatively easily. You find yourself in the body of a small amateur-made toy somewhere in the cellar, all you have to do is run up the stairs back to the house and everything will seemingly be solved. However, this simple task turns out to be significantly more complex than you think. Especially when the cellar is full of dangerous things, such as a broken vacuum cleaner, a suitcase with tools and the like. And that's really just the beginning. Gradually, you get to increasingly crazy places not only in the house, but also outside it. Understandably, you will never get really far within your size, but even a child's room can turn into space.
Look around the pictures. We often try to make pictures from games to show something specific that interested us, but at the same time they didn't play much. It can be an environment, a situation, a boss or an imaginative passage. In the case of It Takes Two, it is incredibly difficult to choose scenes for pictures, because one is better, more beautiful and more interesting than the other. You get in the middle of fierce battles between squirrels and axes in your garden tree and you think it probably won't be better and more interesting, but the game will get you out of error very quickly. Even ordinary things can turn into magical worlds full of imagination, such as a snowball. The conclusion is already a psychedelic ride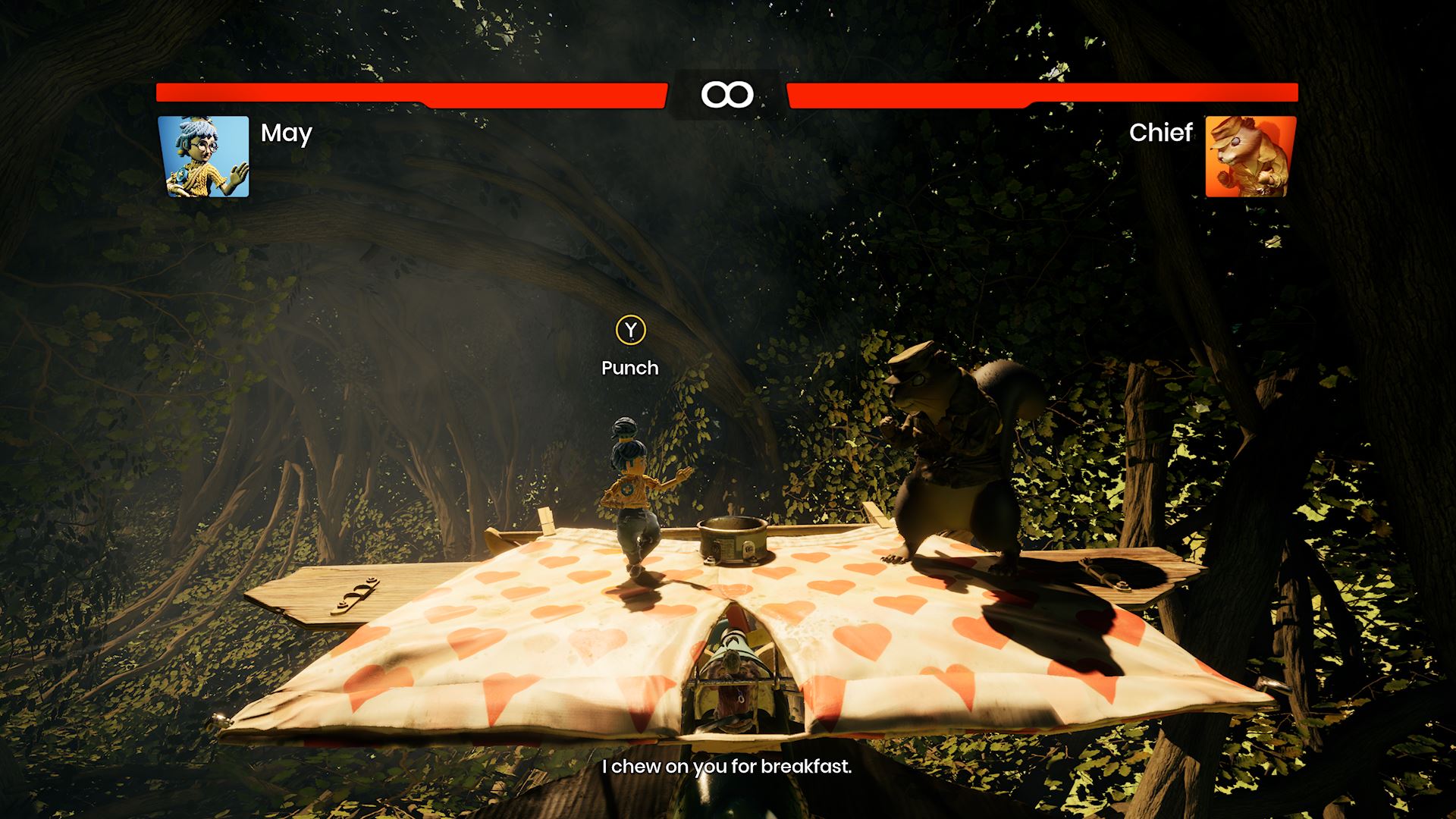 There are games that are similar, but it's just the predominance of form over content. The great thing about this game is that the form and content complement each other perfectly and combine in the form of a perfectly functioning game that has no dead moments. One day he wants to captivate you with an audiovisual theater that represents some part of the life of the main characters. Another time she starts playing an emotional string to emphasize a moving moment. Then it will bring intense action, a thrilling bouncing passage and much more. There is simply no moment when the game will bore you for even a moment. Even if nothing happens, there is an imaginative narrative.
And since the game is so rich in content and form, it is difficult to classify it in genre. Most of the time it is a 3D platformer in a rich environment. But once in a while it becomes a 2D game and you jump around the world when viewed from a side-scrolling perspective. Or it retains the 2D concept, but switches the perspective to a top-down view. There are a lot of puzzles, so you could add adventure elements to it. And there is also action in many ways. Once you mow enemies like Dante from Devil May Cry, other times you shoot them in the form of a cactus, which is reminiscent of Plants vs Zombies. But there is also an air action or a simple ball. However, there is one problem, so many changes in perspective require a lot of work with the camera and it does not always work ideally, so in some activities you do not know the best to perceive the depth of the environment, so you end up in a trap unnecessarily.
I have to add with one breath that It Takes Two is not a very original game in a way, but it does not interfere at all. It's not as if the game steals something else, rather it is cleverly incorporated and acknowledged inspirations in other games, movies and even books. You will find a lot here, for example a variation on the famous Rainbow Road from the Mario Kart series. If you know all this, you will appreciate all the more how the game was able to organically incorporate this diverse goulash and combine it into a functional whole, which is full of variety and imaginativeness.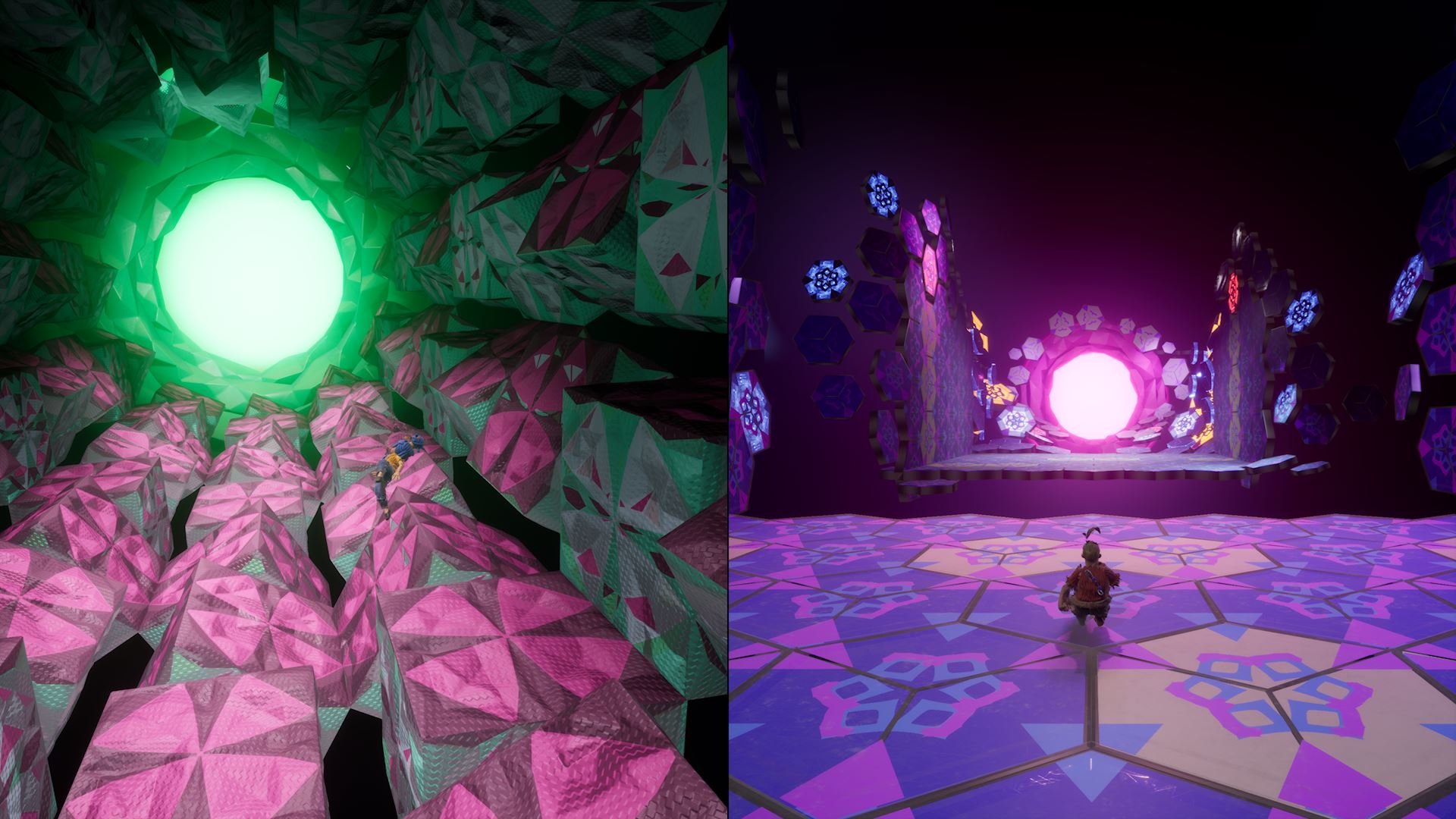 The game does a great job not only with the content and its dosage, but also with how it divides the tasks between the characters. Cody and May get different abilities during the game. In each environment different and each of the pair has different. However, they are designed so that they complement each other appropriately. Sometimes they are the opposite pole of the magnet, other times even weapons. We really liked the pair you get when fighting the axes. One of the players has a resin sprayer, the other has a rocket launcher that fires it. Both also have separate uses, but you can't do without each other in combat. You even get time manipulation and cloning capabilities. So as the characters rebuild their bridges, the two players build their own relationship – you have to explore things together, agree on tactics, communicate, and talk almost practically while playing.
However, it is not just about the constant need for cooperation. The authors know that here and there you also need to rest and try to rest you with the game, not after it has been switched off. Therefore, across all the chapters, they have flooded it with a total of 30 mini-games, in which it is already a matter of one-on-one rivalry. These are really simple mini-games, such as a racetrack or a ball game, long jump and various other competitions, from which the game tracks your score and you can compare it at the end. Minigames are really fast, fun and easy. And best of all, if you find them in the game (which is never hard), you unlock them in the menu and you can play at any time.
And besides, there's a bunch of ancillary content that makes no sense, just to entertain you for a few moments. You won't get an achievement for them, they won't give you any points anywhere, you will just spend time with them, laugh and move on. It is, for example, drawing, fulfilling a challenge and much more. The game will open its otherwise relatively linear environment here and there and allow you to explore more open squares of towns, children's rooms and other locations.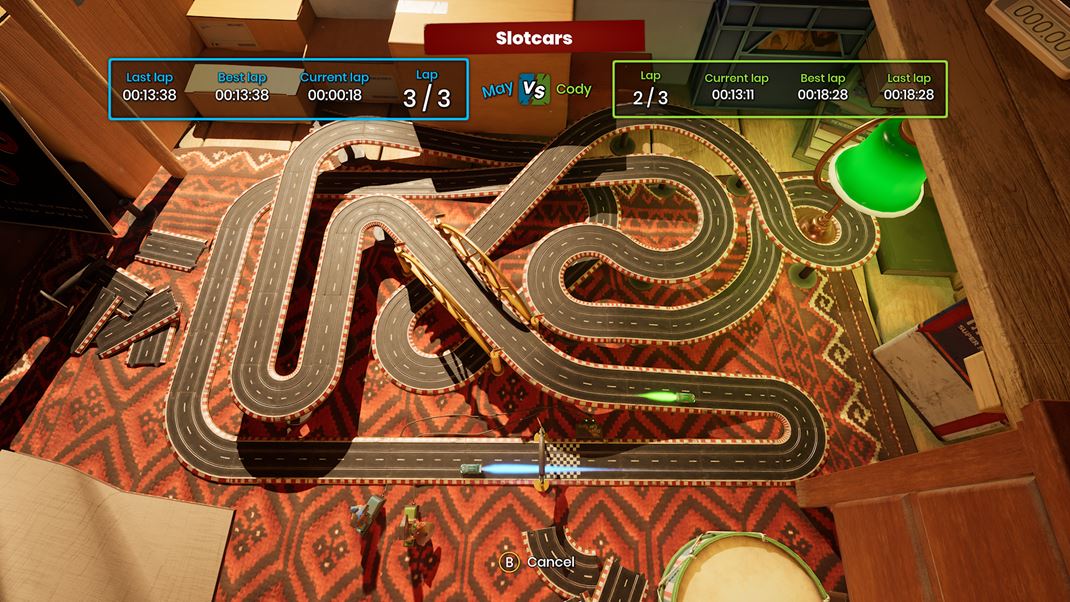 I have already mentioned one of the negatives of the camera, which sometimes does not have to listen very much. And I'm not even a fan of some of the graphics processing components. While you are in the world of imagination, everything is great, beautifully stylized and the game will land. In addition, I was fascinated by the contrast when you look at one thing in the world of imagination and the same thing in reality. The authors have proven that they are full of creativity. In the "real" world, however, it no longer works, the characters don't look so good and their animations are terribly rigid. I understand that this is a part that the authors did not devote so much time to, but personally it spoiled my impression of the visual side of the game.
The music is largely inconspicuously incorporated. It does not try to draw attention to itself, it completes the atmosphere and gently unfolds in the background. But the last chapter is based on music and the authors went to it full balls. Genres, styles mix, you can create part of the music yourself, it is completed by a quantum of visual effects and it makes a great impression. Although it may seem incoherent "on paper" in this way, the opposite is true and it sounds great. No matter which genre you prefer, it just fits here – retro electronics in synthwave style, jazz, progressive rock as if from Pink Floyd or even spectacular orchestral songs that reminded me of the time when the music for the Doctor Who series was composed by the phenomenal Murray Gold. And I must not miss the dubbing, which is simply excellent in every single character.
It Takes Two will take you some 12 hours, maybe 15 if you want to collect everything. And you won't regret it for a minute. It may sound a little infantile from the shots around, but believe me, this is not a game for kids. It is for adults who can perceive all its nuances. It is for couples and everyone. You don't have to divorce to appreciate it and learn something from it. And maybe those few lessons will help you not to make your relationship a "relationshit". In addition, it also offers a huge portion of great entertainment and also one really brutal and ugly scene. And all this makes it one of the best games this year so far.
Awesome
Perfectly thought out cooperation of players
and a deep and sometimes pleasantly allegorical story from life with which one can identify makes perfect game