Buy Football Manager 2021 EU Steam CD Key Region:EU Platform:Steam Languages: Stock: In stock
The game already offers classic options, you can create your own manager, choose your path and you can play the game in both single player and multiplayer. You can train Real Madrid, but also your hometown, or teams from football exotic countries, such as Canada. The league is really a huge pile from all over the world, in Slovakia you can also choose from the second league, there are representatives of lower competitions in cups and the like. You can also get into the national team, you can also get fired and your results do not have to be behind it, but also a quarrel with the owner, for example, because of the budget for transfers. In the first season, you can't argue that if he doesn't give you enough money, you give up. You will fly straight ahead.
So you have your manager, you manage your club and you enjoy the great possibilities that the game gives you. And it's up to you how you decide to enjoy it. It traditionally takes me about 2 hours with each year to get to the first match at all. Until then, you can literally bury yourself in all the possible settings, sub-screens and options for what you want and don't want to do. You will go through a meeting with the management, with the team, with the media, then you will set up trainings, scouting, your coaching staff and their powers, or automatic answers to offers to your players and really much, much more.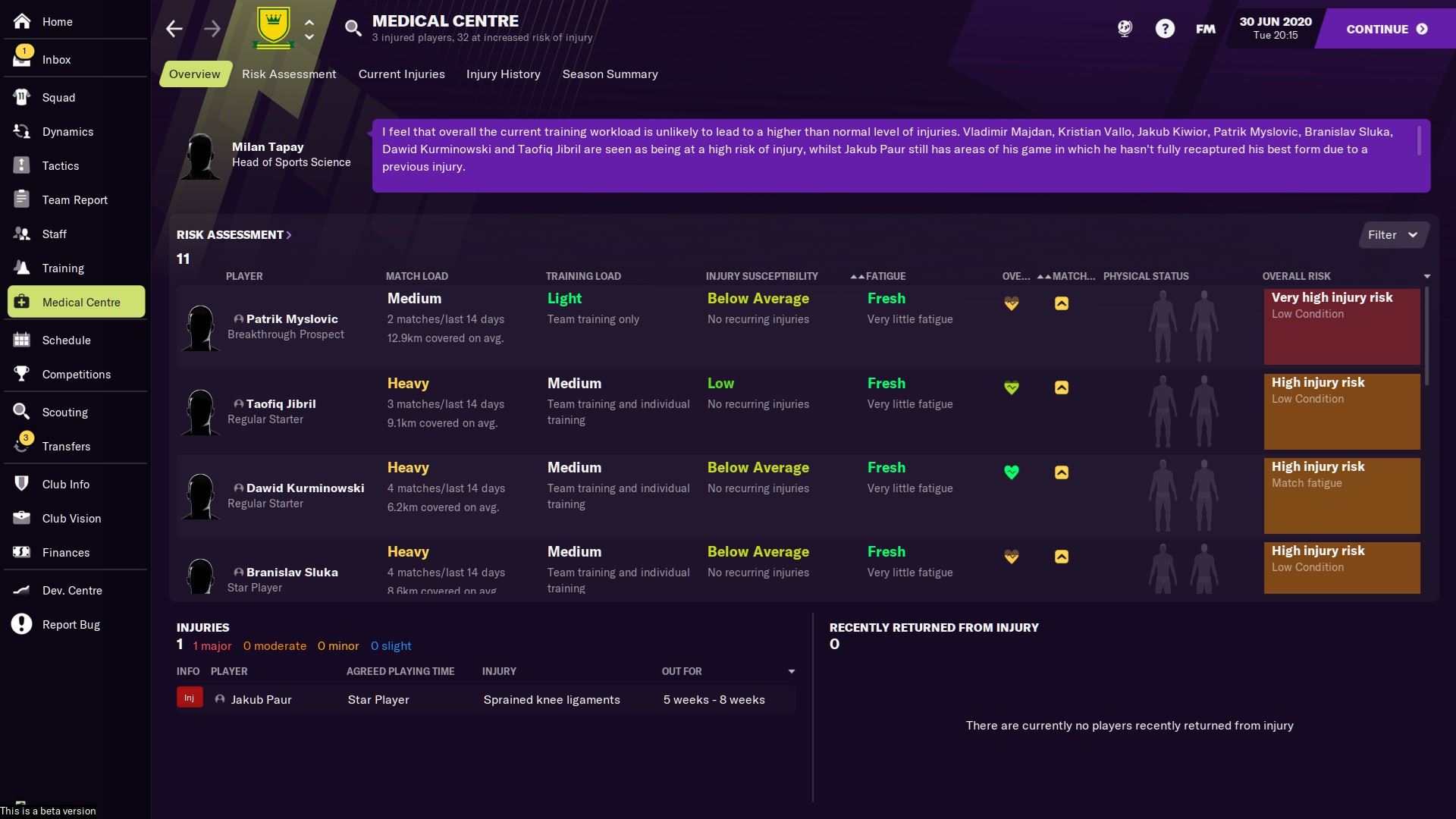 These are things that the regular players of the Football Manager series know well, and not much has changed in this core this year. If you are new to it, it can be that the game will overwhelm you with a huge number of things in which you can easily get lost and not even enjoy it as you might like. And I won't lie to you, there is a lot going on in the game and you may feel lost in it. But at the same time, there is a tutorial for every single option, every single screen, every single button. The game will explain everything in detail so that even this amount of possibilities will not overwhelm you unnecessarily and you will simply master everything it offers.
When you get through those first two hours and come to your first match, you will start to discover more of the news that this game offers. And also its greater depth, which will draw you in and will not let go. If you like it when games really let you feel the impact of your decisions, this will be something for you. You decide on practically everything, and everything here also makes sense, whether it's line-ups, interviews, tactics, training, or even whether you decide to inject your best player after an injury to pull another key match. It is a pleasure to play Football Manager and it is a must for football fans.
You go from match to match, facing new challenges and new experiences. Here the player opens his mouth to you in front of the journalists, there he will be spoken again by the opponent's coach, but other times you will be picked up by some important offspring after a well-managed match. You may think that such a game will become routine and eventually stop entertaining, but it is this constant supply of news, new challenges and even problems that will still motivate you to play and in the final show even entertain. You will even face completely new situations and some acquaintances from previous years will get new elements that enliven them.
For example, the new year brings really great possibilities of interactions with practically everyone and in different situations. New are interviews with players, with management and also with the rest of the team, where you cover a wide range of topics. However, it is not just about what you say, but it also has an impact on how you say it. And this is especially true for conversations with the team in the locker room, where you can calm your team down, or if the situation requires it, then show gestures about your attitude. Or say nothing, throw the bottle angrily into the corner of the locker room and they will already know what it means. As a result, you have more control over morals and relationships, but again, it's something that can bounce off you. For example, your reaction offends one of the players and he pushes it to the media. You then have to think about how to deal with it. You can punish him, but if he is one of the most popular players on the team, he will stand up for him.
Various quick interviews were added, and press conferences were reworked and expanded, in which there is also a lack of feedback, so it is not only about relations with players, but also about the media. Four-eye conversations have been expanded, as well as various last-minute advice, where just before the matches, members of your team can give you, for example, advice on who to focus on defending, how to adjust the style of play, and so on. You can accept all this, or do it your way.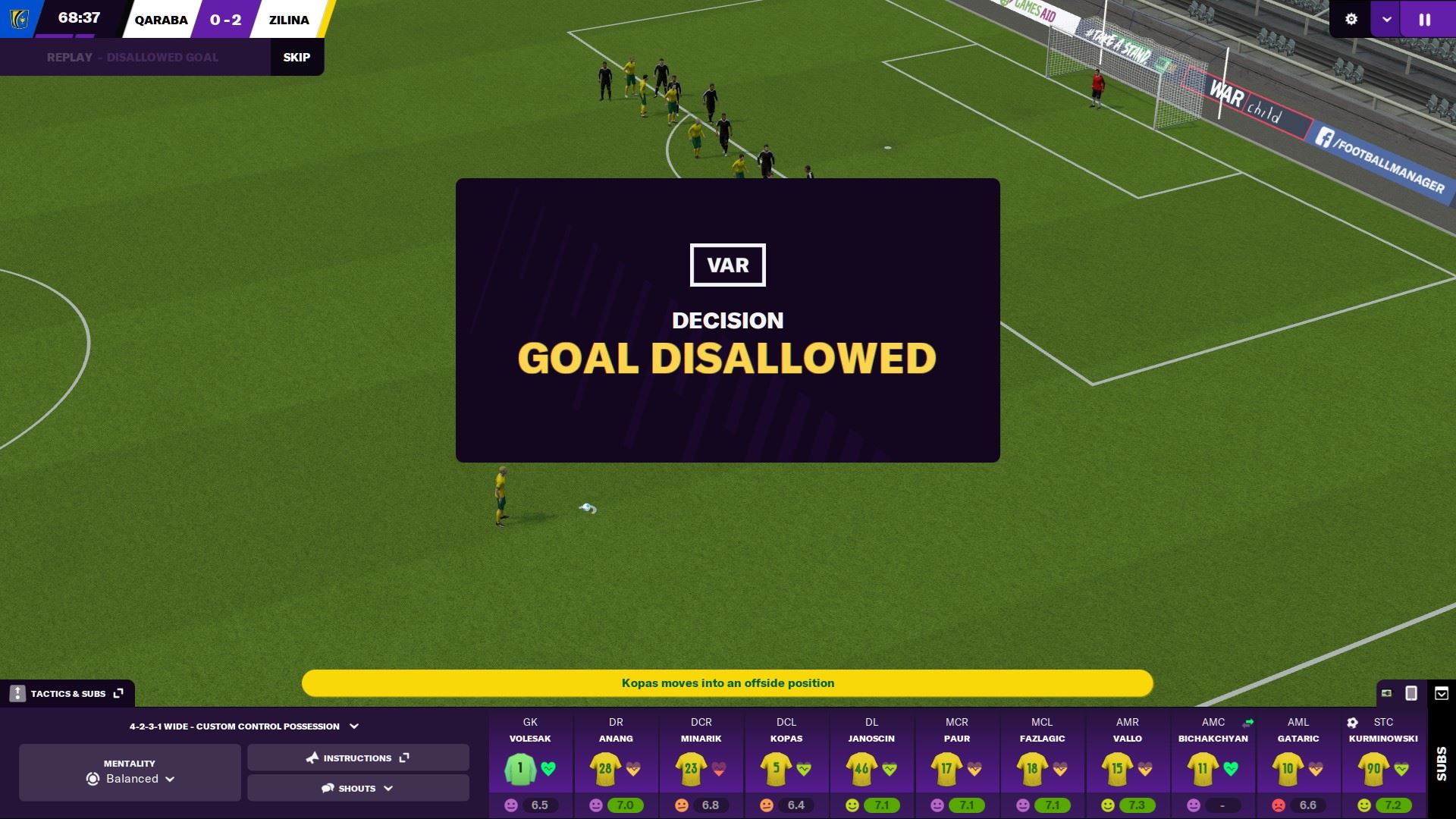 At the same time, there are a lot of things built in that you just don't have to deal with them if you don't want to. Are you bothered by the press? Just set the assistant to go there automatically for you. You can delegate everything and there is always someone to take care of it, whether it's interviews, transfers, scouting, hosting, training, just really anything. This gives the game great variability in customizing the gaming experience. If you are a retailer and need to get as deep as possible into the game, you can control everything. If you are only interested in matches, just take care of them.
The matches themselves have undergone major changes on several levels. Of course, there is an expansion of game options in matches. You have more options for interaction and other interventions in the match, and it's all in a sophisticated interface that looks more intuitive, and even though there's more, you won't get lost in it. However, the visual quality of the match engine has also improved, as has the variability of football and game situations. No other Football Manager game or any other sports management title has worked so well in this regard.
For those of you who like statistics and tables, the authors have added much broader statistical options based on real statistics, and real statistical agencies have also been involved in incorporating them into the game. You can also dive deep into it all, whether during matches, to respond appropriately to developments on the pitch, or even outside matches. The crowning place is the end of each season, when you will see not only improved awarding of possible trophies, but also extended statistics, in which you can reflect on the just ended season, look at its best and worst moments, you can look again at key matches and the like. There is really a lot that gives the game an even more realistic impression and gives you an even greater impression of control over how the game develops.
The game does the best job by giving you so much support and you really feel like you're in control and influencing it all. This is what it's supposed to look like, and this is something that didn't work so well in some of the worse grades, when it more often looked like a generator. Now it's the other way around and the result is great. In addition, all these options and news are complemented by settings that are also extensive and you can customize not only the audiovisual quality, but also menus, skin games and the like. And there is also a Touch version of the game, if you want something even simpler, such as playing on consoles. Unfortunately, this year also lacks Czech, which is no longer profitable for sales in our region, despite such extensive changes to the lyrics in the game. You have to arm yourself with knowledge of a foreign language.
In a way, I was always impressed in this series that it looked like you were playing something in Excel or another spreadsheet editor. This is gradually changing and more and more it seems less than a collection of various austere tables, while the game is gaining in visual quality, better design and also a better view on the menu. The matches are really great within the genre and you will enjoy them too. It's a pity for one old ailment of haphazard animations, when, for example, you see how the game is behind the line, but the game doesn't take it that way. It's the same with a few other animations, which doesn't interfere directly in the match engine, but it would be appropriate to fix it. And maybe the sounds can be made more varied, as the same thing is recycled there for years.
And finally, what I touched on at the beginning. How did the authors deal with the crown? Like all of us. Something works, something doesn't. The pandemic certainly has an impact on transfers and the economic side of the game, which is definitely nice. But you still see full stadiums here. You don't have to deal with tests or infected players, and real football has been showing us this year that the virus can stop the whole team, or even contume the match. These are things that would help the impression of realism even more. It is not a direct mistake that they are not here, but their presence would improve the game. Thus, it is "only" the standard nine for absolutely great and deep gameplay, sympathetic processing and a large number of innovations, thanks to which the game develops towards perfection.
Awesome
Place here Description for your reviewbox