Set Lowest Price Alert
×
Notify me, when price drops
Set Alert for Product: Hunt - Showdown - €18.91
Buy Hunt Showdown NA Steam Gift
Languages:

Price History
Price history for Hunt - Showdown

Latest updates:

€18.91 - November 23, 2023
€25.62 - November 21, 2023
€18.91 - November 19, 2023
€25.62 - November 17, 2023
€18.91 - November 16, 2023
€22.86 - November 15, 2023
€18.91 - November 12, 2023
€25.58 - November 10, 2023

Since: June 6, 2023

Highest Price: €25.62 - November 17, 2023
Lowest Price: €17.49 - June 24, 2023
Description
Hunt Showdown is a first-person shooter survival horror video game developed and published in 2019 by Crytek. The action of the game takes place in the late 1890s in a world overrun by various dangerous monsters. The title focuses on delivering the competitive experience – it is a dynamic multiplayer game that combines player versus player gameplay with monster-hunting mechanics, and throws survival horror elements to the mix.
Story
The game is not directly driven by the story and does not follow classic storytelling. Instead, it allows you to learn the lore of the world you are playing in by collecting the lore entries in the Book of Monsters and the Book of Weapons. It also gives you access to a scrapbook containing basic information about the playable area and about the events that possibly led to its current state. If one wishes to learn even more about the background of Hunt Showdown game, certain external sources were also published by developers on the game's website.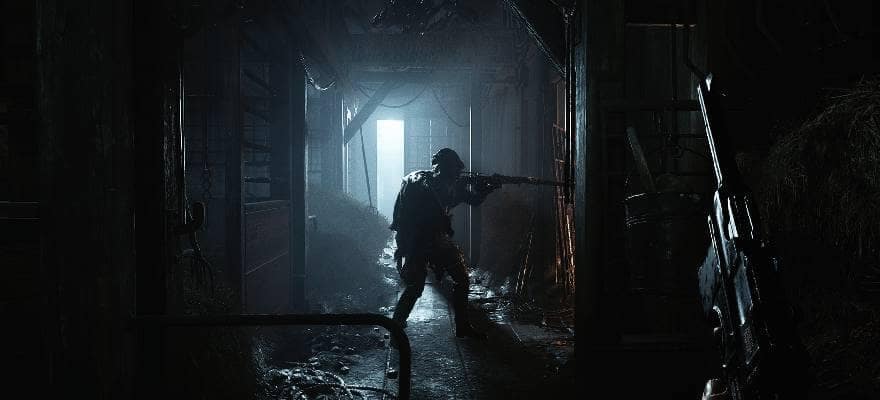 Gameplay and Game Modes
Hunt: Showdown is a multiplayer game which can be played solo against other lone wolfs, or in teams of two or three players. The game can be played in two different modes – Bounty Hunt and Quickplay. While the core of the gameplay is very similar in both of them, there are certain differences.
Bounty Hunt
Bounty Hunt revolves around hunting down a powerful creature. Before the game starts you can choose which monster you wish to hunt by taking a corresponding contract. You will be also able to recruit a Hunter, which will be your playable character during the match. Hunters come in a few different tiers – higher tier means more expensive, but more powerful character. You can keep several Hunters in your roster at any given time, which will allow you to choose a different one for each match to prevent boredom and repetitiveness. Hunters may grow stronger and unlock new powerful traits as they level up. Keep in mind, however, that death in Hunt: Showdown is permanent, which means if your chosen Hunter dies during the mission, he dies for good, losing all of his progress, and you will need to recruit a new one.
Once the match begins you are thrown into a random place on the eerie map together with other players, and you must find and kill the contracted enemy. To locate its lair you need to rely on your dark vision, which highlights the location of the clues scattered around the map – claiming the clues narrows the location of your target. Kill the boss once you found his hiding place and banish his body to gain the Bounty Token. Escape with it to the extraction point and pass it to your contract giver to earn money and to increase Hunter's experience. Keep in mind, though, that other players have the same goal as you, which means they will try to prevent you from banking the bounty and steal it for themselves.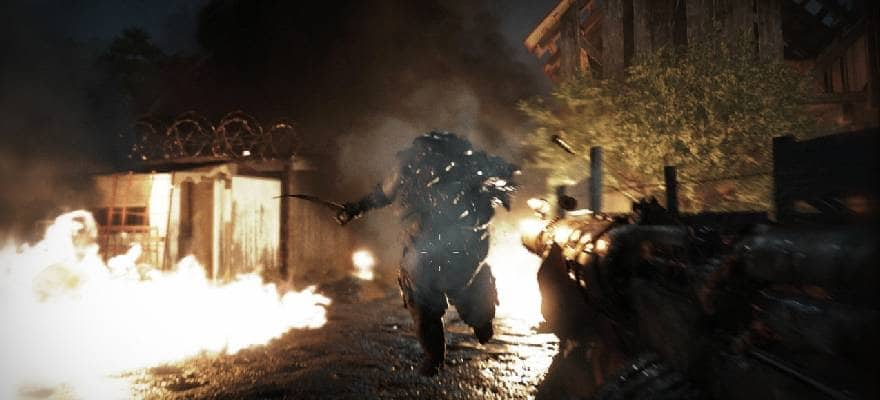 Quickplay
Quickplay is similar to Bounty Hunting, but instead of choosing one of your own Hunters, all players will play a free randomized Hunter with a damned soul. This means you can't keep the Hunter after the match unless you manage to purify his soul. This is done by taking over the Wellspring or eliminating all other players on the map. The location of the Wellspring is unknown and requires closing the Rifts to narrow the searching area. Each time you close a Rift, your Hunter is rewarded with a new random trait. If you manage to win the Quickplay, you will be able to recruit this Hunter for free, along with all of his gained traits and weapons. Because only one player can have his Hunter purified, you should expect fierce competition.
Reception
The unique combination of certain gameplay elements combined with great execution allowed Hunt Showdown to amass positive reviews. Both reviewers and players alike praised the eerie atmosphere, stunning graphics, and game's ability to create constant tension. They also found developers' choice of setting the game in the late Wild West era refreshing, as it resulted in giving the players access to the old classic firearms, rarely seen in modern video games.
Key features
Travel back in time to the 1890s and utilize classic weaponry to defeat ferocious creatures and other players
Join the competitive play in an eerie environment with an unsettling atmosphere, where enemies may lurk just around the corner
Experience a unique mix of PvP and PvP gameplay with monster-hunting and survival horror elements
Customize your roster of playable Hunters – level Hunters up and equip them individually with powerful passive bonuses
Enjoy active development and constant updates introducing new features and additional content
Release date: 2018-02-22
This content was copied from https://www.g2a.com/hunt-showdown-steam-gift-global-i10000144233004?gname=monkeycheaphunt. It is protected by copyright, all rights reserved. If you want to use it, you are obligated to leave the link to the original source.