Set Lowest Price Alert
×
Notify me, when price drops
Set Alert for Product: Sea of Thieves - €13.86
Buy Sea of Thieves Xbox live CD Key
Languages:





This is a restricted product and it can be activated and played ONLY in: Antarctica, Argentina, Australia, Austria, Belgium, Brazi, Canada, Chile, Hong Kong, Colombia, Czech Republic, Denmark, Finland, France, French Southern Territories, Germany, Greece, Hungary, India, Ireland, Israel, Italy, Japan, Marshall Islands, Mexico, Netherlands, New Zealand, Norway, Poland, Portugal, Russian Federation, Saudi Arabia, Singapore, Slovakia, South Africa, South Georgia and the South Sandwich Islands, Spain, Sweden, Switzerland, Taiwan, Republic of China, Turkey, United Arab Emirates, United Kingdom, United States of America.
This is an Xbox One and PC version of the game.
Description
Weigh anchor, hoist the sails, walk the plank, play the hurdy-gurdy? Sea of Thieves is a swashbuckling adventure on the high seas for you, your friends, and a bunch of random people whose ships you can try to plunder.Developed by a seasoned developer Rare, SoT is great fun for anyone with love for pirate's life and badly sung shanties.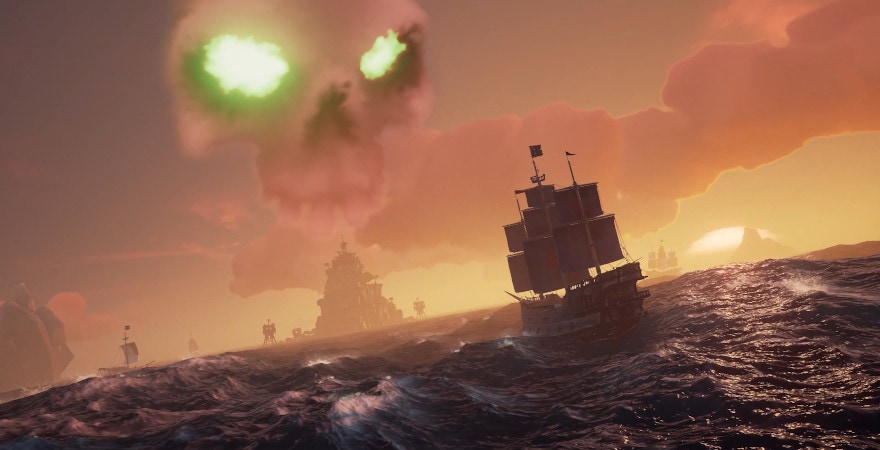 Epic adventures and legendary pirates of the Sea of Thieves
Team up with other ne'er-do-wells in a seedy pub and set out to look for loot and glory out on the high seas, chasing bounties or looking to cause ruckus with other sailors. The more voyages you complete and the more treasures you successfully bring back, the more your legend will grow, giving you access to even better quests, and even shinier loot. The question is: do you have it in yourself to become the greatest pirate legend?
Excellent co-op
Although Sea of Thieves can be a great fun when you play on your own, you want to grab three other people to get the full experience. With a sizeable ship under your control and just the four of you as its crew, you need to work together to even make it out of the port without running over some innocent mermaid.With a proximity-based voice chat and a lot to do, you have to decide who handles the map, who gets the wheel, and who controls the sails or watches the area from the crow's nest.Distinct roles to fill and easy communication make for fun and exciting cooperative gameplay.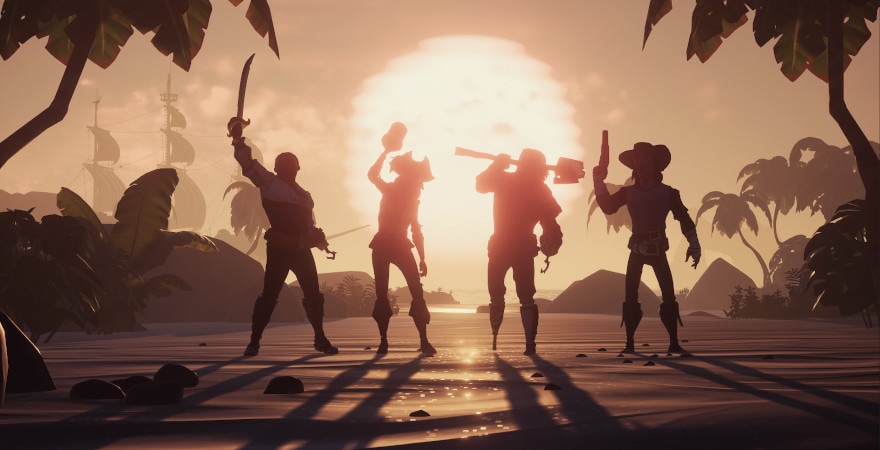 Threats and treasures of the Sea of Thieves gameplay
Each voyage you sign up for at the tavern is an adventure in its own right, and it will test you and your crew. Will you brave the kraken-infested waters and emerge unscathed from its deadly tentacles? Can you control the existential fear and the undead emerge from their shallow graves to protect the long forgotten gold? Are you smart enough to solve riddles blocking the last part of your way to the promised treasure?Sea of Thieves has challenges aplenty for all the weathered pirates, the question is: are you tough enough to get the treasure and retrieve it without being harassed on your return trip? You aren't the only scoundrel around.
Colourful player avatars
You can select your own pirate alter-ego from a bunch of randomly generated individuals, with appearances ranging from borderline heroic to the worst scoundrels seen on any coast. Customise your chosen avatar further with in-game items like peg-legs, eye patches, a plethora of clothes and even pets to bring joy and confusion to your crew.Express your own aesthetic insanity in any way you want without fearing it breaking the atmosphere.
Works on Xbox One and Windows 10 only!
Available only for Xbox Live accounts
For a full list of available countries please check Xbox Games tab here : 
www.xbox.com/en-US/regions
Release date: 2018-03-20
This content was copied from https://www.g2a.com/sea-of-thieves-xbox-live-key-global-i10000145411001?gname=monkeycheapseaofthieves. It is protected by copyright, all rights reserved. If you want to use it, you are obligated to leave the link to the original source.